Date Posted: March 23rd, 2023
Our project with RBF Construction was a bit different than many for a couple of reasons; first and most notably because we continued to live in the house during the project and second because we wanted to reuse as much of the original cabinets and detailing as possible to retain the period feel of the house.
The scope of the project was significant. We have owned the house for approximately two years and bought it in part because it retained the late 1950s/early 1960s feel. It had remained largely unmolested through the years, retaining the original cabinets, cooktop, etc. and the original floorplan at around 1000 sq ft. Our goal was to add approximately 350 sq ft to the house by extending the floorplan into "corner" where space had been left between the garage, fence and existing back wall of the house, to redo the existing bathroom and add a second toilet and powder room, redo the roof and update the electricals.
Richard recommended the architect/engineer as a way of preparing the bid package. The recommended architect did a very good and thorough job and was flexible, including taking care of the design approvals, etc. There were no significant iterations necessary with the plans being approved on the first go-through with the city of Huntington Beach.
Once construction started it progressed almost continuously, with stops only for curing of tile, etc. and for some specific material delays associated with Covid-19. During the construction Richard stopped by almost every day, including helping ensure that the bathroom was usable so that we could continue to live in and use the house and garage. He managed all of the contractors closely, regularly inspecting their work and ensuring they left the house clean at the end of each day. Some specific tasks like the removal of the original built in solid cabinetry he oversaw quite closely to try to ensure that no damage was done as they were to be reused.
Richard also worked closely with us on the selection of the tile, paint, grout, etc. to ensure that we were happy, including making quick and good quality repairs in the event anything was wrong. He also ensured that the little details were resolved including somewhat nuisance items for him and his team such as the reinstallation and troubleshooting of the original doorbell, a period detail we wanted to keep. He also helped us preserve some cool little details from the house such as some pieces of the original period wallpaper (that he framed a piece of) and some of the original cedar shakes of the house so that we could use them for later details.
The total project was completed from start to finish in 13 weeks with the exception of the final permit closure, which took a little longer but the house was fully liveable by that time. Richard was also very fair with the payment terms and collections, with no disputes around payments, etc.
When we selected RBF it happened quite quickly as we elected to stay in California vs. our other home due to the pandemic. Richard helped us move quickly through the process and we went from idea to plans in place in approximately 6 weeks. We selected Richard because he was local and the part that sealed the deal for us was actually that he had done several of his neighbor's houses – a vote of confidence that was reflected in our own experience. We would recommend Richard for most any renovation project based on our total experience.
Date Posted: March 23rd, 2023
We wish we could have found Rick, the owner of RBF Construction sooner! After previously meeting with multiple contractors, we were left frustrated. Huge variance in pricing, vagueness in project details and poor communication were some of our pain points. These were companies that were rated positively on most review sites. Fortunately, we received a referral from our friends that had previously worked with Rick. He was personable, timely with responses, knowledgeable, transparent and held his crews accountable. Our project finished ahead of schedule, met our expectations and we are throughly enjoying our home enhancements. He even remembered the due date of our son and thoughtfully followed up to see how we were doing, along with a gift. In a commoditized business where there are ultimately endless options, Rick was the best choice.
Date Posted: March 23rd, 2023
RBF completed an interior/exterior remodel and room addition on our home in Huntington Beach. We received bids from and interviewed five general contractors and ultimately decided on RBF. As someone who has worked in the construction industry for over 20 years, I was looking for an honest, fair-priced, good communicator with a proven track record. RBF checked all those boxes, and we're thrilled with how the project turned out. RBF's roster of subcontractors from the demo crew to the finish painter, and everyone in between were all excellent. You can see and feel the quality work they put in place. Even while managing multiple projects, Richard scheduled his subs so the work continued to flow from beginning to end. It was a pleasure working with Richard and his subcontractors. I would recommend them to you for your next construction project.
Date Posted: January 27th, 2021
Working with RBF construction was both rewarding and super chill. RBF construction handled all the work we needed to get our new home move in ready and when unexpected things came up they handled it like champs! They finished the jobs before the estimated time and gave us a chance to handle some other minor things before moving in. I'd highly recommend RBF Construction and i will definitely use them again for future projects.
Date Posted: January 13th, 2021
We used RBF construction for our kitchen remodel, which included taking down a wall between the kitchen and living room to create an open concept floor plan. We cannot say enough wonderful things about Rick and his team!! Rick listened to our vision, but also offered very helpful and valuable suggestions that clearly came from his expertise and years of experience. The crew was extremely professional and SO CLEAN!! Every friend/family member that came by throughout the project was so quick to notice how meticulous the work was and how clean the workspace was kept. We were given a 6-8 week time frame from start of project to completion, but it was done in a little less than 5 weeks!! We were able to stay living in our home during this massive project with a toddler and 2 dogs, because Rick and his team kept open lines of communication, stuck to their schedule, and kept us in the loop throughout the whole process. Our main living space (living room/kitchen/dining room) looks like a completely new home and we couldn't be happier with the outcome. We would absolutely use RBF Construction for future projects and would recommend to everyone we know.
Date Posted: January 13th, 2021
RBF did an excellent job remodeling my master bath. The craftmanship was excellent and it was on schedule. I would highly recommend Rick and his team.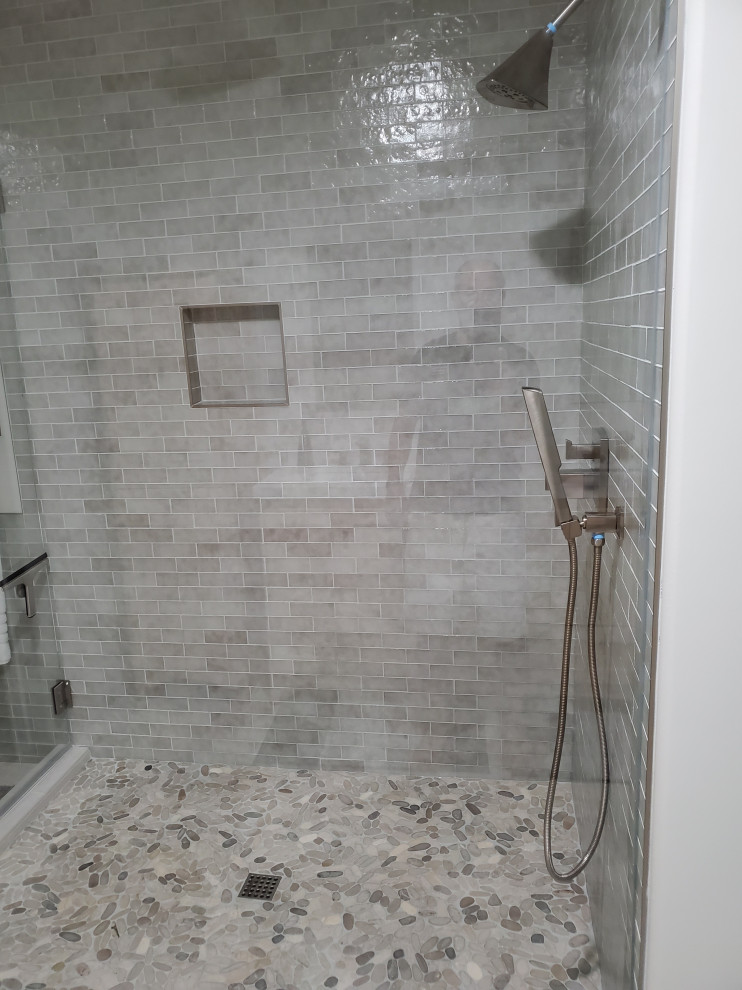 Date Posted: January 13th, 2021
It has been refreshing to work with Richard and all of his team of subcontractors, employees etc. as they work to get the job done on time and on budget. As well, Richard is a good source of ideas. Pleasure to work with him and look forward to any future projects
Date Posted: January 13th, 2021
After a rental property we own caught fire and destroyed much of the home, we were at a loss as who to turn to. RBF Construction was recommended to us and deciding to hire Rick was the best thing to happen to us in a very unfortunate situation. Rick himself is very professional, very patient and it was clear he wanted to make us 100% satisfied with the rebuild of our home. He was extremely easy to communicate with, and VERY knowledgeable. In fact, at the time he was already working on a home in the area that also had experienced a fire, and we felt completely comfortable in his abilities to guide us through the process. We had the good fortune to actually see his finished work since we were able to see what a beautiful job he had done on the other house. Rick's work is impeccable, and he has great attention to detail. He finished our rebuild much quicker than we expected, within budget and the process was much easier than we expected thanks to Rick's guidance. Our finished home is absolutely gorgeous and the work is top-notch. We are thrilled with the finished product. In fact, when we put the house on the market to sell, we had an offer in 2 days! Thank you SO much Rick for the beautiful work you did. We would not hesitate to recommend RBF Construction to anyone needed contracting services.
Date Posted: January 13th, 2021
I can't say enough wonderful things about RBF Construction. We had a devastating fire that required a complete gut of a three-story 2000 square foot unit. EVERYTHING needed to be replaced down to the bare studs. Richard was on the job daily insuring his men were doing a quality job. Cleanliness on the site was also a priority, as this is a beach community with little space for materials. The project ran smoothly, efficiently and was finished in a timely fashion. Most importantly it is a BEAUTIFUL job with close attention to detail. Richard is very knowledgable about all construction trades and has quality sub contractors that regularly work with him. This was the second project I hired RBF construction to do, and I did so based on the excellent service I received when he did several patios and front wall for another house. My son and close friends have also had a great experience with this contractor.
Date Posted: January 13th, 2021
This company and its owner, Richard French, did an amazing job with our home addition. The job was done in exactly the amount of time which was given and at the price quoted. They added 600 square feet, from start to finish, in less than 3 months. The owner, Richard French, was on site to supervise and work daily. Everyone of the workers was courteous. Everyone cleaned daily — they cared about our quality of life by making sure equipment was well stored so that our son could play in the yard when they left. We could live in our home without debris due to a wall that was placed between our original home and new construction. They told us what hours would be loudest so that we could plan accordingly. We are super impressed with this work and we were able to live peacefully as a family before, during and after all stages of construction. We are forever grateful and highly recommend this company and Richard French as the owner, worker, and orchestrator.
Date Posted: January 13th, 2021
We are beyond happy with RBF Construction. We had plans drawn up to completely re-configure our house. We met with a couple of companies and ultimately went with Rick. He finished way ahead of schedule and always communicated with us throughout and we were able to make small tweaks as necessary. In the end from the day we broke ground to final sign off it was done in record time and we are beyond happy with how it turned out! I would highly recommend RBF Construction!
Date Posted: January 13th, 2021
Richard from RBF did an amazing job on my room addition. He's extremely professional and attention to detail is unlike anyone else I've worked with in the past. When the inspector tells you that the quality of work is really good and you can't even tell it's an addition then you know it couldn't have been done any better. We had a ton of different opinions with our family on everything and Richard was really able to come through and put a smile on all of our faces with the end product. He gave us a timeline from start to finish and I can't believe starting in November and working through the wettest February ever recorded he finished the job earlier than expected. His prices are very fair and you can always find someone who will do things cheaper but you really do get what you pay for with RBF Construction. Stop shopping and hire RBF.
Date Posted: January 13th, 2021
RBF Construction saved the day for me when my original contractor was unable to finish a significant remodel. Rick is a professional, a very conscientious person and his bids are reasonable. I would not hesitate to hire him again for any job, large or small.
Date Posted: January 13th, 2021
RBF Construction did my bathroom, transforming my 1950's old bathroom, to a new, clean, modern look. They removed the old bathtub, and installed a beautiful walk in shower, with shelves, glass doors, and light in shower. New tile in shower and on floor, new cabinet, sink, and toilet. Richard was so easy to work with. He provided plumbers, masons, electricians and carpenters that went out of their way to keep things clean and done in a timely manner. I can't say enough about how impressed I was with this company. It has been more than a year since they have completed their work, and I still get compliments on how beautiful my bathroom is. RBF is my go to for my next home remodel.
Date Posted: January 13th, 2021
RBF Construction came highly recommended. So when we bought our first home, a fixer upper. We knew we needed someone who could handle anything. RBF remodeled our living room and all three bedrooms. Everything from electrical, painting, moulding, removing popcorn ceilings, can lights, ceiling fans, hardwood flooring throughout, switches, New outlets….. the list goes on. RBF was upfront and honest. No bait and switches. Very professional and hard working. The crew always cleaned up after themselves each day, were very respectful and provided quality work. When we needed a change order RBF handled it well, they were very accommodating and helpful. They had some great ideas and used quality products. Explained everything along the way. They were willing to do anything we wanted. Communication was great, from beginning to end. We are very happy with the end results. We get lots of compliments on their work. We love our home thanks to RBF Construction.
Date Posted: January 13th, 2021
My husband and I hired RBF Construction to design and create a new front yard for our property. While we had a general idea of what we wanted, Richard took our ideas and created a project that exceeded our expectations. I was very impressed with his knowledge in all aspects of the renovation. He worked very closely with his subcontractors and checked on the project daily. He discussed any issues he uncovered during the process with us so there were never any surprises. His communication was stellar. The project was completed on time with minimal disruption to the neighborhood.
Date Posted: January 6th, 2021
Having worked with Rick French on several projects, the one thing that truly stands out more than the quality of the work performed is his dedication to getting the job done right. Rick is professional, knowledgeable and efficient. Each time he has delivered on time and on budget. We are small business owners and Rick understands what our needs are –he outlines a schedule and meets deadlines, looks for ways to keep costs down and communicates with us every step of the way. Our companies share the same commitment to providing our customers with exceptional quality and customer service.
This is a quality company run by quality people that we have enjoyed working with.
Date Posted: January 5th, 2021
What can I say?! RBF Construction did a great job remodeling our bathrooms! From the initial quote to the finished work, Rick and his crews couldn't have been better. They always kept us posted on the work. They were very friendly. They started and finished the job on time. And they were definitely one of the most competitively priced. We would absolutely use RBF Construction again!
Date Posted: January 5th, 2021
I knew from the referral I got that Rick was good. I just had no idea how good until the project started. Work started ahead of schedule and, if the rains hadn't interrupted, would have been done early as well. You know you've got an exceptional contractor when he shows up every day for weeks, rain-or-shine, to work on and supervise the job personally. The horror stories I'd heard of other contractors bidding a job, starting work, then disappearing for weeks at a time leaving rubble in their wake (and of cutting corners where corners shouldn't be cut) were totally absent with Rick. Rick's way of doing business is exceptional; his focus on satisfying me, the owner, was incredible. I might have been able to find a "lower" bid initially, but I'm convinced that in the final cost, Rick's way of doing business was actually the highest possible quality at the most reasonable cost.
Date Posted: January 5th, 2021
"Our addition is amazing! Rick pulled it off on a short calendar with minimal disruption to the rest of the house, found solutions to every problem that came up, and it looks like it cost twice what it actually did. My favorite room in the house."
Date Posted: January 5th, 2021
"I think the thing I appreciate the most is you and your subs willingness to stay engaged after your contract is finished. That level of support is exemplary."
Date Posted: January 5th, 2021
If you want outstanding work to be done, I would put Rick French at the top of your list. He is at the top on mine, in fact, I was so satisfied with Rick's work that I am having him work on my next home project. "
Date Posted: January 5th, 2021
Some of the things I appreciated most about working with Rick on my project was his eye for detail, candid, forthright, and honest approach to the various tasks of our remodel, including his timeliness, punctuality, and follow up communication. Rick's wisdom acquired through years of experience contributed countless esthetic tweaks and alterations to our original plans that fine tuned the outcome of the remodel, including many $ costs reductions and savings with the final outcome clearly exceeding our expectations on time and on target.
Date Posted: January 5th, 2021
"I would highly recommend Richard B. French Construction without reservation for any home construction and remodeling plans you or others might consider. Rick's professional demeanor and insightful practical experience came into play from the first day we walked our job, to the final walk through of our remodeling project.
Date Posted: January 5th, 2021
I'm happy to recommend their services!"
Date Posted: January 5th, 2021
As manager of the building, I found Richard French and his staff to be responsive and professional. They kept the sites clear during construction and arranged for excellent subcontractors! They finished their work sooner than expected and on budget!
Date Posted: January 5th, 2021
"The Board of Directors of the Lafayette Condominiums hired RBF Construction to rehabilitate a former ballroom into a functioning gym and to install ADA compliant bathrooms in one of our ground floor commercial spaces.
Date Posted: January 5th, 2021
"Richard remodeled our bathroom last year and we were very pleased with the quality of his work. He is honest, punctual, very professional and pays attention to details. His sub-contractors were professional as well and pleasant to work with. We highly recommend Richard French"
Date Posted: January 5th, 2021
I love my bathroom! My bathroom is exactly what I wanted and was completed earlier than expected. He gave me continual updates and options when I needed assistance. Professional and detailed is how I would describe his work. I will be using him again. On a side note, he also went above and beyond to make sure my pets were safe. Thank you again!
Date Posted: January 5th, 2021
Our very happy ending – I decided to turn my small patio into my own private tiki lounge. I hired a guy down the street to build a patio cover. After paying him a very large sum of money, I was left with a small amount of lumber, and no patio. My boyfriend contacted his friend who happens to be a building inspector. He deals with a LOT of contractors, and he said Richard French is THE best. So I called Richard, and we got together and worked on plans and ideas. Richard would send me pictures, and I would send him pictures, he would make so many trips to my place to get my thoughts on his ideas, and to show me so many options. I could tell right away that I had the best person for the job. He and his help would always be on the job first thing in the morning, work a full day , and clean up every speck of dust before going home at night. I had a beautiful patio cover in just a couple days, it was perfect! I was so happy, that I asked Richard if he could build me a raised planter, and install artificial turf as well. He said "sure!," so then we started planning what materials we could use to make it look tropical, and again Richards ideas and workmanship were spot on. I have to say that I could not be more happy with my Tiki lounge, and I give all the credit to Richard French, HE is the best!
Date Posted: January 5th, 2021
We were first time homebuyers, with a home that needed a lot of work! Rick came in and gave us his honest opinion as to what needed to be done and what didn't. He was great at keeping us on budget and helping us to find solutions or alternatives to problems that came up during the project. Every piece of the project was done with care, and we couldn't be happier with the work. When we decide to do larger projects in our home, later down the line, we will definitely use him again.